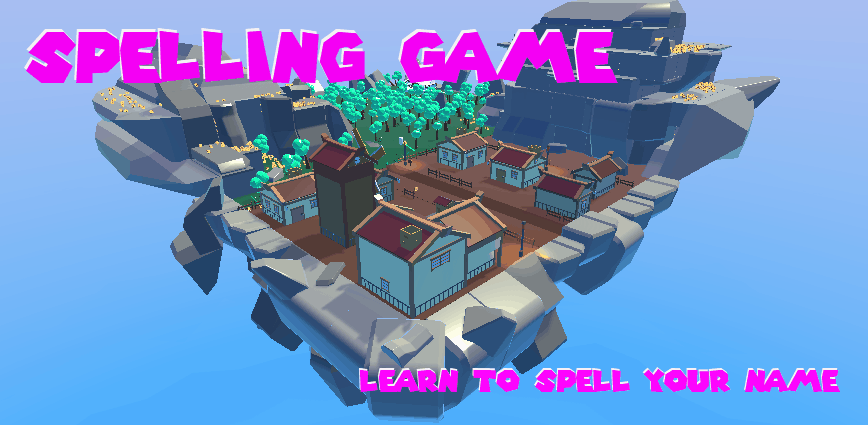 Spelling Game
A downloadable game for Windows, macOS, and Linux
This game is for children between the ages of 4 to 7
A parent may have to be present the first time a child plays so that the parent can enter the child's name where the game asks for it.
What is this game?
This game was created to help my nephew learn to spell his name, his interests at the time of making this game was to play minecraft, so I took the breaking and gathering aspect. I hope this will help more caregivers with teaching their young ones how to spell their names. Young players that play this game will also be exposed to the sound that each letter makes, hopefully making it easier for young players to learn the alphabet.
What do I have to do in this game?
In this game young players are on a mission to spell words by gathering cubes that have different letters on them. Completing all the words will help their new friend get back into space where his mum and dad wait. Players will hear sounds associated with the letter as well as see visual representation of the letter hopefully making learning the alphabet a lot easier for our young ones.
Controls
KEYBOARD
W = MOVE FORWARD
A=MOVE LEFT
S=MOVE BACK
D=MOVE RIGHT
MOUSE
LEFT CLICK = PICK UP BLOCK / PUT DOWN BLOCK
*BREAK OBJECTS(WHILE IN ARM TOOL MODE)
RIGHT CLICK = CHANGE TO ARM TOOL / CHANGE BACK TO PICK UP BLOCKS
*CLICK TO CHANGE BETWEEN FUNCTIONS
CREATORS - MSio, Skatus12
Download